Fabrique de chocolat "Le moulin du cacao"
The Moulin du cacao is one of the few chocolate makers in the department capable of making its own chocolate from cocoa beans.
The Cocoa Mill is part of the Route Gourmande des Bouches du Rhône! A renowned theobromatist, Daniel Eynard transforms Ivory Coast cocoa into a traditional natural chocolate with exceptional taste and finesse. Up to 85% cocoa and more, as well as 45% cocoa for Pure Cocoa Butter milk chocolate. Only a long practice, an exceptional capacity of observation and intuition can distinguish the best. Success is essentially based on the choice of basic products, a subtle balance of mixtures and a high degree of safety. Daniel Eynard is part of this line of chocolate makers who combine tradition and inventiveness in order to offer his talent and know-how to our palate. He is also a member of the Confiseurs Chocolatiers de France and founder of the RTC Théobromeur. Some specialties - Le Logisson de Provence - The Provençal Picholinette - La Gynginette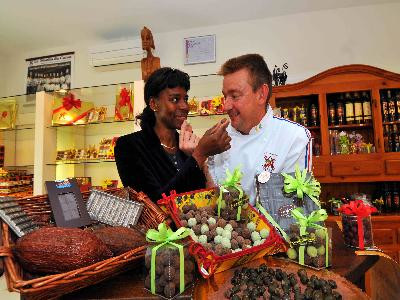 Les lieux touristiques dans un rayon de 10 kms.
A proximité:
Datatourism data updated on: 2023-01-05 05:13:18.229