Musée du Vieil Aix - Hôtel Estienne de Saint-Jean
France > Provence-Alpes-Côte d'Azur > Bouches-du-Rhône > 13100 > Aix-en-Provence > 17 Rue Gaston de Saporta
The Estienne de Saint-Jean private mansion, which become the museum of old Aix in 1932, is the town's history museum.
The museum was founded by Marie d'Estienne de Saint-Jean. The collections created thanks to her numerous donations retrace the history and traditions of Aix-en-Provence. The collections, made up of furniture, earthenware, traditional figurines, objects from craft guilds and puppets from the talking nativity scene, a popular 19th century show, give us a real insight into the life of Aix's inhabitants. Some rare pieces can be discovered, such as the screen from the Corpus Christi procession, which evokes a very old tradition celebrated for many years, a modello by G. B. Gaulli, a model of his project for the baptistery of Saint Peter's in Rome, an exceptional piece of 17th century Italian art, or the 'Annunciation' by Barthélémy d'Eyck (one of the painters of the Roy René), a central panel of a 15th century triptych, the other two panels of which can be seen at the Rijksmuseum in Amsterdam or at the Museum of Fine Arts of Belgium.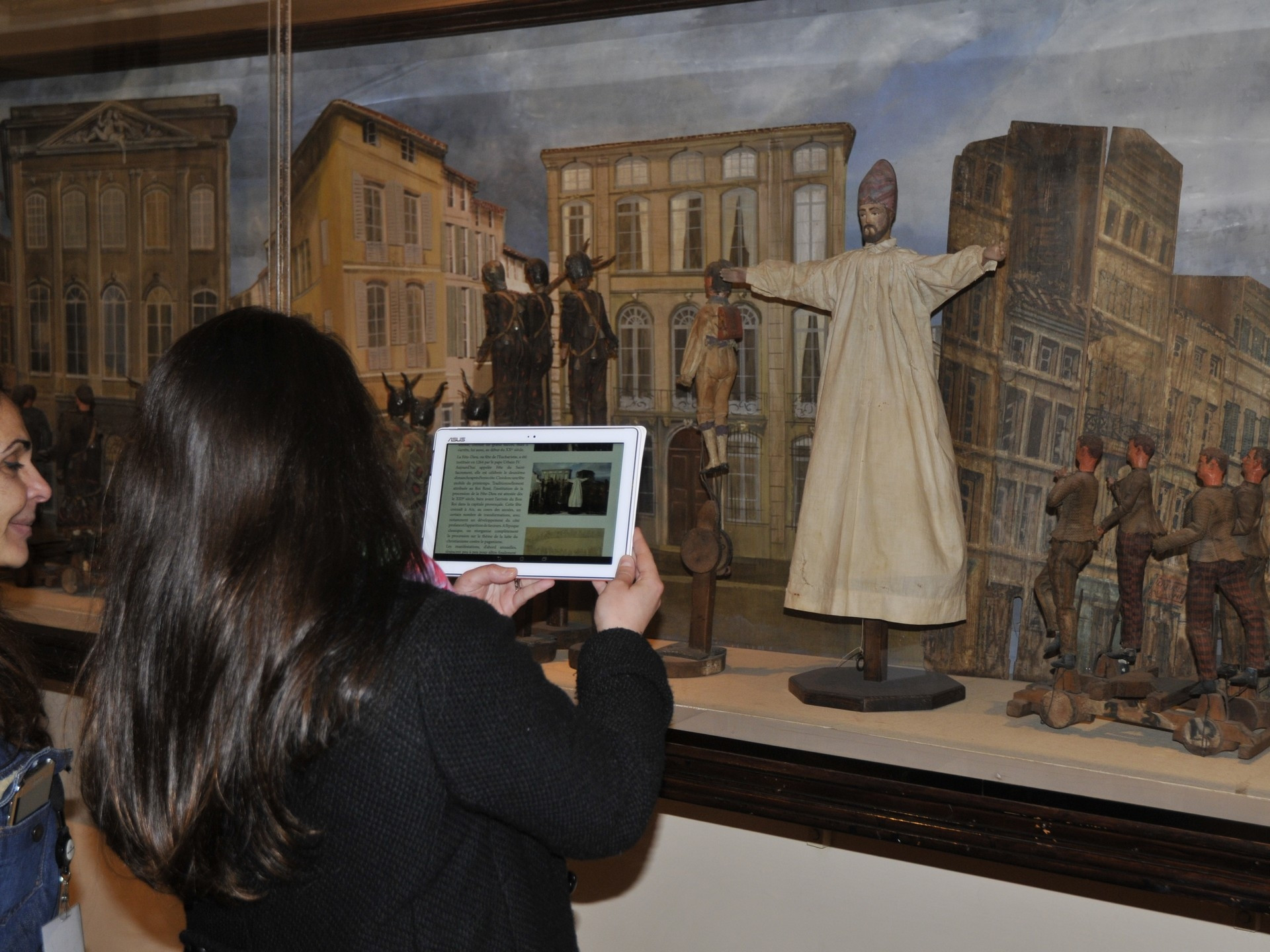 Copyrights Musée Estienne de Saint Jean
Les lieux touristiques dans un rayon de 10 kms.
A proximité:
L'emporthé
Created by two brothers, Michaël and Matthieu, L'emporthé is a gourmet tearoom/snack bar that offers various sweet and salty seasonal snacks. Enjoy...
Voir
Confiserie Léonard Parli - La boutique historique
The Maison Parli was founded in 1874. It is now a reference in top-of-the-range sweets, not only for Calisson d'Aix sweets, but also for candied fr...
Voir
Les Savonneries du Soleil
store with many natural products as well as cosmetic soaps and scents.
Voir
Confiserie Léonard Parli - La boutique Aix-Cathédrale
The Léonard PARLI shop is close by St Sauveur Cathedral. The Maison PARLI is today a reference in top-of-the-range sweets, not only for Calisson d...
Voir
La boutique d'Aix-en-Provence - Confiserie du Roy René
The store on the rue Gaston de Saporta in Aix-en-Provence is a privileged meeting point for all lovers of Calissons and other Provencal treasures.
Voir
La maison du savon de Marseille
The store offers real Marseille soap, in partnership with the Fer à Cheval soap factory.
Voir
Trésors d'étoffes provençales - Circulation, fabrication et passion d'indiennes dans les collections du musée du Vieil Aix
Throughout the exhibition, the Musée du Vieil-Aix will give visitors the opportunity to discover masterpieces of Indian art that are rarely shown, ...
Voir
Maison du Nougat
Maison du Nougat est située en plein cœur d'Aix-en-Provence, rue Gaston de Saporta, proche de la mairie.
Voir
Datatourism data updated on: 2023-12-06 05:16:21.352