France > Provence-Alpes-Côte d'Azur > Bouches-du-Rhône > 13100 > Aix-en-Provence > 2 Rue Goyrand
Built on the former site of the Hôtel de la Monnaie between 1786 and 1789 for Joseph-Philippe Bonnet de la Baume, adviser to the Parliament, he never enjoyed it.
Built on the former site of Hôtel de la Monnaie between 1786 and 1789 for Joseph-Philippe Bonnet de la Baume, a member of Parliament, but he never lived in it. At the first troubles of the revolution he left the city to take refuge in Lyon, where he died on the scaffold. The mansion was owned in turn by Général Miollis and Messrs de Coriolis-Moissac, and in the 19th century it became the home of doctor and surgeon Jean-Gaspard Goyrand, who gave his name to the street, previously Rue Sainte. This very harmonious building, in pure Louis XVI style, has been beautifully restored by its owners. A vast carriage gate, the old gate of the city, opens on to a paved courtyard and a private garden. From there, the main door leads to the monumental staircase, whose wrought-iron banister is a sheer masterpiece. It is listed as a historical monument, and since 1990 its owners have admitted the public for visits every day of the year from 08.00 to 19.00, including weekends and public holidays.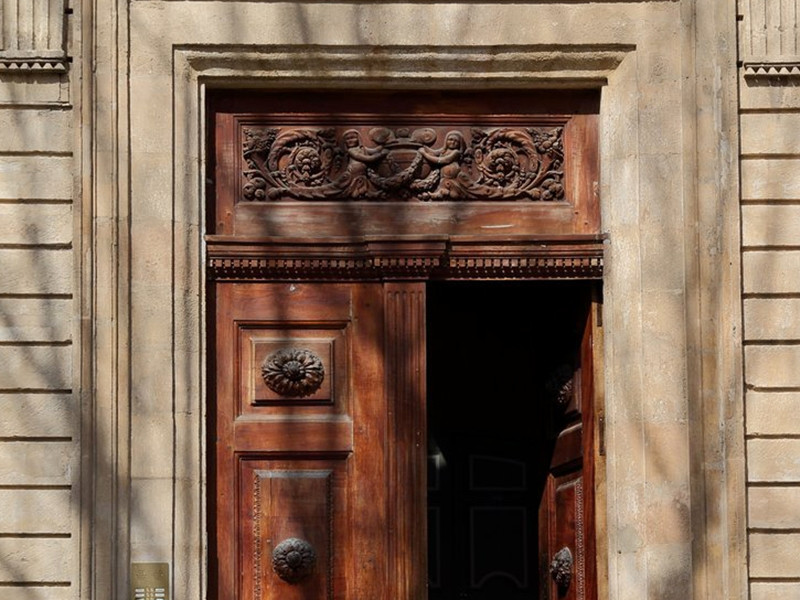 Copyrights Guy Liegeois
Les lieux touristiques dans un rayon de 10 kms.
A proximité:
Book in Bar
Located in the Mazarin district, the Book in bar bookshop welcomes you in a laid-back Anglo-Saxon atmosphere.
Voir
Hôtel d'Olivary
This 17th-century mansion is in the Mazarin district, near Place des Quatre Dauphins and Cours Mirabeau in the heart of Aix.
Voir
Mucha, maître de l'Art Nouveau
A travers environ 120 œuvres issues de la Collection de la famille Mucha, l'exposition à l'Hôtel de Caumont met en lumière toute la splendeur et l'...
Voir
Visite libre hors exposition de l'Hôtel de Caumont - Centre d'Art
Caumont Centre d'Art self visit with audioguide
Voir
Café Caumont
The Café Caumont, on the ground floor of the art centre, gives you the opportunity to immerse yourself in the 18th century.
Voir
Hôtel de Caumont - Centre d'art
The Hôtel de Caumont is one of the rare urban residences in Aix "between courtyard and garden" which, by reminding us of castles in the middle of t...
Voir
Chicago en VO
For the release of his dictionary in love with Chicago, illustrated with American texts in French and English, Didier Delegluse (artist-author from...
Voir
Boutique Free
Discover the Free Center Aix-en-Provence to subscribe, test the new Freebox or the latest phones. Advisors are waiting for you in store!
Voir
Datatourism data updated on: 2023-10-16 10:06:33.121