Artisan Anne Catherine Durand Créations
France > Provence-Alpes-Côte d'Azur > Bouches-du-Rhône > 13210 > Saint-Rémy-de-Provence > 3 bd Gambetta
Sculptures and drawings in Indian ink. Accessories, covid-19 masks Unique pieces.
Originally from the Parisian Basin, she has been immersed since her childhood in an artistic environment made of exchanges, teaching, freedom and fantasy. It is in Saint Rémy de Provence that she realizes in a first time, tapestries and clothes on her loom ARM. Then she proposes a couture line of exclusive creations: jackets, skirts, sweaters, bustiers and accessories, with daring necklines and dynamic colors, made of noble materials that remain safe values. Heiress of ancestral techniques, she draws and realizes each piece by hand with sobriety, a timeless style. At the same time, her imagination sublimates the raw material into refined characters and silhouettes, inspired by her long walks in the Alpilles where she likes to recharge her batteries, and into masks that envelop the faces with mystery. Invitation to wander on the paths of reverie ... It is in her new confidential space, located on the ramparts shaded by plane trees, 3 Boulevard Gambetta that her fashion creations and her very singular sculpted bestiary are elegantly mixed.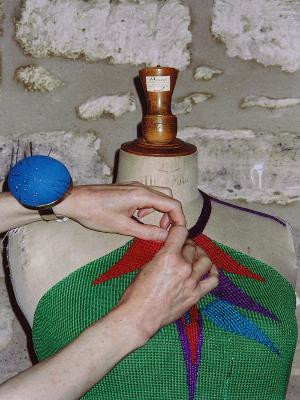 Les lieux touristiques dans un rayon de 10 kms.
A proximité:
Cercle de lecture à la Bibliothèque
Rencontre de lecteurs ouverte à tous pour échanger sur les livres à faire découvrir, à la Bibliothèque Joseph-Roumanille.
Voir
Soirées jeux : Rien ne va plus !
Board game nights at the library, every last Friday of the month from 6:00 to 9:00 pm.
Voir
L'heure des contes pour les 4-9 ans
Reading of traditional, modern or mythological tales at the Joseph Roumanille municipal library, one session per month, on Wednesdays from 3 to 4 p...
Voir
Lecteurs en Herbe à la Bibliothèque
Enjoy a moment of reading for the under-3s at the Joseph Roumanille municipal library.
Voir
Ateliers Créafuté - Dès 6 ans
Découvrez les ateliers Créafuté à la Bibliothèque Joseph Roumanille pour les enfants à partir de 6 ans pendant les vacances scolaires.
Voir
Bistrot Steakhouse
Bistrot Steak House, a restaurant in the town centre of Saint-Rémy-de-Provence offers you these delicious Black Angus meat burgers, to eat in or ta...
Voir
Studio St Remy Centre Ville
Studio downtown renovated and equipped to nine (2nd floor overlooking a quiet courtyard). My accommodation can accommodate from 1 to 4 people. We p...
Voir
Alpilles 13
Discover St Rémy de Provence and its surroundings with our electric bikes, all-terrain scooter tour, take our bike paths by bike or scooter. You w...
Voir
18 Nostra
A lot of charm for this house located in the heart of the historical center of St Rémy de Provence. All comfort on 3 levels and private heated pool.
Voir
Datatourism data updated on: 2023-10-16 10:06:33.122